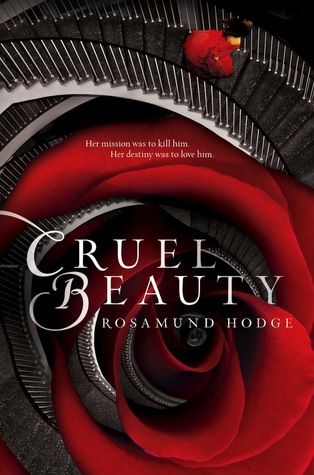 Image and summary from Goodreads.com
Based on the classic fairy tale Beauty and the Beast, Cruel Beauty is a dazzling love story about our deepest desires and their power to change our destiny.
Since birth, Nyx has been betrothed to the evil ruler of her kingdom-all because of a foolish bargain struck by her father. And since birth, she has been in training to kill him.
With no choice but to fulfill her duty, Nyx resents her family for never trying to save her and hates herself for wanting to escape her fate. Still, on her seventeenth birthday, Nyx abandons everything she's ever known to marry the all-powerful, immortal Ignifex. Her plan? Seduce him, destroy his enchanted castle, and break the nine-hundred-year-old curse he put on her people.
But Ignifex is not at all what Nyx expected. The strangely charming lord beguiles her, and his castle-a shifting maze of magical rooms-enthralls her.
As Nyx searches for a way to free her homeland by uncovering Ignifex's secrets, she finds herself unwillingly drawn to him. Even if she could bring herself to love her sworn enemy, how can she refuse her duty to kill him? With time running out, Nyx must decide what is more important: the future of her kingdom, or the man she was never supposed to love.
MY REVIEW
Wow. This book...All right, ever since I heard about it before it came out, I wanted to read it. Beauty and the Beast is one of my favourite fairy tales, in all its various incarnations, and Greek mythology? What's not to love!
It's difficult to discuss this book, because none of the characters are what they seem. So I'm going to warn you now, there may be SPOILERS in this review.
One thing I adored was Hodge's writing; it packed a lot of punches and really forced you to ponder "the nature of humanity", so to speak. I liked how she delved into something I've often thought about in relation to superhero myths. Heroes are always saving the "innocents", right? Well, Hodge points out that, in reality, there are no "innocents". The people who come to bargain with the Gentle Lord, such as Nyx's father, are just as much monsters as the Gentle Lord himself. Because it's all about motivation.
Though the book's setting is rather Greek and therefore outside the Christian sphere, I noted a lot of similarities to Christian beliefs. How we "cannot pay for our own sins" (a line almost straight from the book); loving others despite their flaws...it made the book spear my heart.
I have a thing against bad boys. I don't like it when heroines end up with them. However, Ignifex isn't just a bad boy. And the book had me falling for him alongside Nyx. That's all I can reveal--the book takes his character and completely sideswipes you by the end. And Nyx herself isn't some naive young woman being taken advantage of by a more experienced bad boy. No, she is the "cruel beauty" as much as Ignifex. Their relationship reminded me *SPOILERS FOR ANOTHER BOOK SERIES* much of Gen and Attolia's from Megan Whalen Turner's "The Queen's Thief" series--a HUGE compliment considering Eugenides is a major fictional crush and Attolia is such a sad, sweet, complicated mess of a woman that I just want to hug and heal.
Suffice to say, I adored this book, mainly for the twisted, complex relationship between Nyx and her husband. However, I also want to point out that this book was written in the darker, more mature vein of fairy tales. While there is nothing of an explicit nature, there is a husband/wife relationship going on, with all the bells and whistles. There is talk of murder, affairs, and demons are the antagonists of this book. So if any of that content would put you off, this may not be the book for you. I would say this book is best suited for older teens and up.